Branch Offices
East County Branch | North County Branch | South Bay Branch
---
The District Attorney maintains three branch offices to better serve the needs of different areas of San Diego County. The Juvenile Division is also located off site.
East County Branch
The District Attorney's East County Branch is located in El Cajon. The branch serves 535,000 residents and covers more than 2,000 square miles. During 2008, Glenn McAllister took the reins as Division Chief and the branch took 36 felony and 45 misdemeanor cases to trial, in addition to those tried by the branch's Gang and Family Protection Divisions. More than 94 percent of cases were settled prior to trial, providing a significant cost savings to law enforcement and the public without any change in disposition guidelines.
In late 2008, the office secured a lease for three-quarters of the sixth floor in the El Cajon City Building. El Cajon's Family Protection Deputies and their support staff were relocated to the new space along with the Restitution Enforcement Team and Trial Support Services.
Because of its location and proximity to rural stretches of the international border, the East County Branch often deals with cases involving illegal smugglers driving vehicles with human cargo who are fleeing law enforcement. In addition, the branch often handles DUI cases that result in fatalities on rural roads. Prosecutors in the East County Branch are also experienced in homicide, sexual assault, child molestation, and a large volume of property crime, drug offenses, and DUI cases.
Cases of note that the branch handled in 2008 include:

People vs. Jean Rices and Anthony Miller
Division Chief Glenn McAllister and DDA Jennifer Kaplan are prosecuting these defendants for the robbery and murder of two victims at the Granada Liquor Store in El Cajon. Defendant Rices faces the death penalty.

People vs. McCauley and Bernal
Assistant Division Chief Jim Romo and DDA Martin Doyle prosecuted these defendants for two murders – one at a 7/11 store in Lemon Grove and the other in Murrieta, California. Both defendants were convicted.

People v. Robert Carson
DDAs John Rice and Marlene Coyne are prosecuting this defendant for the attempted rape and murder of a young East County woman. Carson faces the death penalty.
The East County Branch office proudly participates in the Diversity Pipeline and Mock Trial programs aimed at introducing the youth of East County to our criminal justice system and the potential for careers in criminal justice.
North County Branch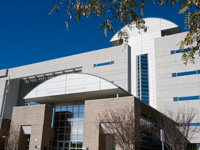 The North County Branch of the District Attorney's Office serves about one third of San Diego County's population – some one million residents. Ten law enforcement agencies, including six sheriff's substations submit crime reports to the North County Branch for prosecution. The branch was led during the year by Chief Summer Stephan and Assistant Chief Garland Peed.
During 2008, this branch reviewed 17,333 criminal cases and prosecuted 15,931 defendants. Branch Deputy District Attorneys conducted 868 preliminary hearings and 126 jury trials.
Some of the branch's most important cases included:

People v. Salvador Zamudio
The defendant sexually-assaulted a cleaning woman and snatched her phone when she tried to call 911. A jury convicted the defendant of all charges and he was sentenced to 39 years-to-life in prison.

People v. Karl Russell
The defendant committed a residential burglary and as he was trying to flee from police in his car, struck and killed an innocent driver of another vehicle. DDA Rick Madruga and his team obtained a conviction of first-degree murder and the defendant was sentenced to 26 years-to-life in prison.

People v. Carnes
The defendant was driving under the influence in Encinitas when he hit and killed a mentally disabled victim as she was riding her bicycle. He then fled the scene. DDA Brenda Daly and her team prosecuted this case and obtained justice for the victim and her anguished husband. The defendant was sentenced to 15 years in prison.

People v. Michelle Thompson
Defendant was under the influence of methamphetamine and crossed into oncoming traffic killing the 92-year old passenger who was in her care. DDA Christine Israel and her team prosecuted and convicted the defendant who was sentenced to more than 27 years in prison.
South Bay Branch
The South Bay Branch of the District Attorney's Office is located in the city of Chula Vista. The branch handles all misdemeanors and felonies that occur in Chula Vista, National City, Imperial Beach, San Ysidro and Coronado. The branch also prosecutes cases from R. J. Donovan State Prison and the county detention facilities in East Mesa.
The office works in conjunction with the Department of Homeland Security in prosecuting cases that involve drug smuggling and stolen vehicles that occur at the Port of Entry at the U.S./Mexico border.
During 2008, the South Bay Branch was led by Branch Chief Gregg McClain and Assistant Chief Sherry Thompson.
The South Bay Branch does general prosecution and also houses DDAs from the Gangs, Family Protection and Narcotics Divisions. These specialized units work closely with local law enforcement agencies to prosecute the most difficult types of crimes.
The South Bay Branch is also working in conjunction with the Chula Vista Police Department on an Office of Traffic Safety Grant which involves an emphasis on multiple offenders of DUIs and alcohol-related traffic injuries and deaths.
The branch routinely handles thousands of cases during the course of a year.
Cases of note for 2008 included:

People v. Jimenez
The defendant posed as an Immigration Officer and convinced undocumented immigrants to pay him for preparing immigration documents. He took more than $44,000 from 15 victims. The defendant was sentenced to five years in prison.

People v. Cunamay et al.
The defendants ran a major cockfighting ring and stored their fighting birds near Imperial Beach in South San Diego. The case involved 49 defendants, the majority of whom have pleaded guilty.