Economic Crimes Division
---
The Economic Crimes Division prosecutes economic-related crimes, which harm both individuals and businesses in San Diego County. The division was led in 2008 by Division Chief Michael Groch. It is organized into six specialized teams:
Computer and Technology Crime High-Tech Response Team (CATCH)
Complex Theft
Consumer Protection
Environmental Protection
Public Assistance Fraud
Real Estate Fraud
During 2008, the Economic Crimes Division saw a heavy flow of real estate fraud complaints that increased as the market continued downward. The division assigned additional investigative manpower to meet the demand. There was also an increase in widespread fraud where suspects were victimizing large numbers of San Diego County residents to strip their equity from them and leave another homeowner with a defaulted mortgage.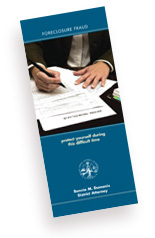 In 2008, the San Diego County District Attorney created an outreach program to reach distressed homeowners and warn them of the current schemes being perpetrated against homeowners in default. On a weekly basis, the District Attorney mails an informational warning brochure to homeowners in the County who had a notice of default filed against their property that week. In the first six months of the program, the District Attorney sent out more than 8,000 brochures.
The District Attorney's Office, along with the Office of the Public Defender, was honored by the National Association of Counties (NACo) during 2008 for a model program that allows first-time public assistance fraud defendants an opportunity to avoid criminal conviction, but still obtains full restitution to taxpayers. The cost of prosecuting these cases used to cost taxpayers more than the benefit of recovery of the fraud amounts. The new program emphasizes accountability and rehabilitation.
It gives defendants a chance to earn dismissal of the case, but only after they pay restitution, and complete a term of volunteer work. This frees up prosecutors to spend their time developing cases where the dollar amount is substantial or the method of fraud was more sophisticated.