Branch Offices
East County Branch | North County Branch | South Bay Branch
---
The District Attorney maintains three branch offices to better serve the needs of different areas of San Diego County. The Juvenile Division is also located off site.
East County Branch
The District Attorney's East County Branch is located in El Cajon. The branch serves 535,000 residents and covers more than 2,000 square miles. DDA Glenn McAllister serves as Division Chief and DDA Jim Romo served as Assistant Chief. During 2010, the branch issued 2,133 Felony cases and 7,296 Misdemeanor cases. Deputies took 31 felony and 83 misdemeanor cases to trial, in addition to those tried by the Branch's Gang and Family Protection Divisions. Close to 94 percent of all cases were settled prior to trial, providing a significant cost savings to law enforcement and the public without any change in disposition guidelines.
Because of its location and proximity to rural stretches of the international border, the East County Branch often deals with cases involving the smuggling of drugs and human cargo. These smugglers often flee from law enforcement endangering both the public and their human cargo. In addition, the branch often handles DUI cases that result in fatalities on rural roads. Our cooperation with the California Highway Patrol and the Sheriff's Office in developing State Route 67 into a "safety corridor" during this year resulted in a dramatic decrease in the number of collisions and fatalities along that highway.
Prosecutors in the East County Branch are experienced in homicide, sexual assault, child molestation, and a large volume of property crime, drug offenses, and DUI cases. There are specialty units that deal exclusively with Family Protection, Gang and Fraud cases located within the Branch.
Cases of note that the branch handled in 2010 include:

People v. John Rodriguez
DDA Renee Palermo prosecuted this defendant for killing two victims in an El Cajon apartment. The defendant was convicted of two counts of first-degree murder with special circumstances and was sentenced to Life without the Possibility of Parole.

People v. Robert Carson
DDAs John Rice and Marlene Coyne prosecuted this defendant for the attempted rape and murder of a young East County woman. The defendant is now serving multiple life sentences.

People v. John Gunther
DDA John Philpott prosecuted this defendant of the savage beating and murder of his mother in her Alpine home. Defendant was convicted at jury trial and sentenced to 26 years to life.
The East County Branch office proudly participates in the Diversity Pipeline and Mock Trial programs aimed at introducing the youth of East County to our criminal justice system and the potential for careers in criminal justice.
North County Branch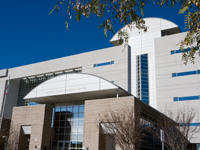 The North County Branch of the District Attorney's Office serves about one third of San Diego County's population – some one million residents. Ten law enforcement agencies, including five sheriff's substations submit crime reports to the North County Branch for prosecution. The branch was led during the year by Chief Summer Stephan and Assistant Chief Garland Peed.
During 2010, this branch handled 19,431 with the special units criminal cases including the prosecution of 21 homicide cases, 25 vehicular manslaughter cases and 134 sex crime cases.
Some of the branch's most important cases included:

People v. Kelley Edley
The defendant, a male health worker and Kaplan College instructor, sexually assaulted three different women over a 10-year period. The women were reluctant to come forward due to fear and shame. DDA Roy Lai, DAI Tom Morgans and a great team tracked down witnesses from years earlier and put the case forward to a North County jury. The defendant was convicted of all charges related to the assaults on the three victims and Defendant was sentence to prison and is required to register as a sex offender for the rest of his life.

People v.Michael Williams
Defendant raped and murdered an 18-year-old young woman on July 20, 1995 and dumped her body at the construction site that is now San Marcos State University. This was a cold case that had run out of leads until a DNA hit matched the defendant's profile that was entered when defendant was convicted of molesting and abusing his stepchildren in the state of Mississippi. In 2010, DDA Jodi Breton, DAI Dan Ahrens and a persistent team brought defendant back to San Diego County to face justice and he was convicted of murder with special circumstances of rape and was sentenced to Life without the possibility of parole.

People v. Secundino Torres
Defendant, at the time of the crime, a caretaker on the property of victim and her family repeatedly molested and videotaped the then 8 year old victim. When the victim became and adult, she had the courage to report to police what the defendant had done to her. Police were able to discover the videotapes of the crime still in this predator's belongings 14-years later. DDA Lisa Stark and her team successfully brought defendant to justice and he was convicted of multiple counts of child moles and pornography and was sentenced to 94 years in State Prison.
South Bay Branch
The South Bay Branch of the District Attorney's Office is located in the city of Chula Vista. The branch handles all misdemeanors and felonies that occur in Chula Vista, National City, Imperial Beach, San Ysidro and Coronado. The branch also prosecutes cases from R. J. Donovan State Prison and the county detention facilities in East Mesa.
The office works in conjunction with the Department of Homeland Security in prosecuting cases that involve drug smuggling and stolen vehicles that occur at the Port of Entry at the U.S./Mexico border.
During 2010, the South Bay Branch was by Branch Chief Victor M. Nunez and Assistant Chief Sherry Thompson.
The South Bay Branch does general prosecution and also houses deputies from the Gangs, Family Protection and Narcotics Divisions. These specialized units work closely with local law enforcement agencies to prosecute the most difficult types of crimes.
The South Bay Branch working in conjunction with the Chula Vista Police Department has an Office of Traffic Safety Grant which places an emphasis on reducing the high number of alcohol-related traffic injuries and deaths as well as offenders with multiple DUIs. DDA Cally Bright has led the effort to educate the public and military personnel on the dangers of drinking and driving.
The branch routinely handles approximately 5,000 felony cases during the course of a year.