Branch Offices
East County Branch | North County Branch | South Bay Branch
---
The District Attorney maintains three branch offices to better serve the needs of different areas of San Diego County. The Juvenile Division is also located off site.
East County Branch
The District Attorney's East County branch is located in El Cajon. The branch serves 535,000 residents and covers more than 2,000 square miles. Deputy District Attorney Glenn McAllister serves as division chief and Deputy District Attorney Mike Still is Assistant Chief. Last year, the branch issued cases on 2,837 felony defendants and 8,747 misdemeanor defendants. Deputies took 60 felony and 74 misdemeanor defendants to trial, including those tried by the branch's gang and family protection divisions. Approximately 98 percent of all cases were settled prior to trial, providing a significant cost savings to the law enforcement and the public without any change in disposition guidelines.
Because of its location and proximity to Indian reservations and casinos located in East County, the branch often handles cases involving crimes committed on the reservations or arising from casino activities. Our cooperation and partnership with the tribes, their tribal councils, tribal law enforcement, and the Sheriff's Department has enabled us to successfully investigate and prosecute these cases resulting in increased public safety on the reservations and in the casinos. The branch also deals with cases involving drug smuggling across the international border into San Diego County and DUI accidents and fatalities on rural roads.
Prosecutors in the East County branch are experienced in homicide, sexual assault, child molestation, property and financial crime, drug offense, and DUI cases. There are specialty units within the branch that exclusively handle domestic violence, gang, and fraud cases.
Cases of note that the branch handled in 2011 include:

People v. Eric Protas
Deputy District Attorneys John Philpott and Jennifer Golovato prosecuted this defendant, a karate school owner/instructor, for sexually molesting a 13-year-old student for a one-year period. The defendant was convicted of 12 counts of sexual molestation and sentenced to 26 years in state prison.

People v. Hector Romero
Deputy District Attorney Heather Trocha prosecuted this defendant for stabbing the victim to death over a "bad blood" feud. The defendant was convicted of first-degree murder with the use of a knife and was sentenced to 26 years-to-life in state prison.

People v. Alice Via
Deputy District Attorney Karra Reedy prosecuted this defendant for animal cruelty and operating a kennel without a license after 62 dogs were found in crates in appalling conditions. The defendant was convicted, sentenced to probation, and ordered to pay restitution to county Animal Control for costs of the investigation.
North County Branch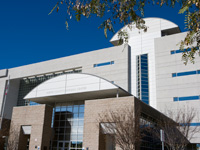 The North County Branch of the District Attorney's Office serves about one third of San Diego County's population – some one million residents. Ten law enforcement agencies, including five sheriff's substations submit crime reports to the North County Branch for prosecution. The branch was led during the year by Chief Summer Stephan and Assistant Chief David Hendren. During 2011, this branch handled 18,469 with the special units' criminal cases including the prosecution of 23 homicide cases, and 173 sex crime defendants.
Some of the branch's most important cases included:

People v. Eric Andreasen
The defendant stabbed the victim in the parking lot of a shopping center with a kitchen knife as she clutched her purse. The victim, who died, suffered eight stabs to the abdomen, two cuts to her throat and multiple stab wounds to her hands. Minutes before the attack, the defendant had aggressively attempted to panhandle from others and used threats of violence when he was refused. Deputy District Attorney Roy Lai, Brenda Daly and DA Investigator Julie Ward persisted through the investigation, guilt and sanity phases. The defendant was convicted of murder with special circumstances and the defendant was found to be sane when he committed this crime. He was sentenced to life without the possibility of parole, plus seven additional years in state prison.

People v. Daniel Entzminger
A 16-year-old girl was walking to school carrying a school project when 17-year-old Daniel Entzminger grabbed her while wearing a mask. He pointed a gun at her, moved her to a more secluded area, raped her, and then stole her iPod and $5. The defendant was found the next day in possession of the victim's iPod and his DNA was found on the victim. Deputy District Attorney Patrick Espinoza and his team brought Entzminger to justice and eventually obtained a conviction of rape with the use of a gun. He was sentenced to 15 years-to-life in state prison. After this conviction, it was determined he had previously raped another woman. Entzminger pleaded guilty to that rape as well.

People v. William Romero
The defendant, who had been drinking on Easter Sunday and who was told not to drive or he would die or kill someone, drove his vehicle in excess of 90 miles-per-hour on Interstate 5 near San Onofre. He weaved in and out of traffic, cut across four lanes and drove up behind a vehicle being driven by the victim and his family. The father and 5-year-old son in the family's car were ejected from their vehicle and the father died. The son survived and the mother/driver of the vehicle suffered cuts and lacerations. The defendant fled the scene on foot and was apprehended hiding in the brush about a half mile away. The defendant had a 0.10 percent blood-alcohol level two hours after the collision. He said he was only the passenger of the suspect vehicle. Through the superb investigative skills of DA Investigator Dan Simas and the expert legal skills of Deputy District Attorney Matt Greco and team, the witnesses, who warned the defendant not to drive, were located. He was later convicted of second-degree murder for knowingly ignoring the risk of harm to others on the road. He was sentenced to 16 years-to-life in prison.
South Bay Branch
The South Bay branch of the District Attorney's Office is located in the City of Chula Vista. The branch handles all misdemeanors and felonies that occur in Chula Vista, National City, Imperial Beach, San Ysidro and Coronado. The branch also prosecutes cases from R. J. Donovan State Prison and the county detention facilities in East Mesa.
The office works in conjunction with the Department of Homeland Security in prosecuting cases that involve drug smuggling and stolen vehicles that occur at the Port of Entry at the U.S./Mexico border.
During 2011, the South Bay Branch was led by branch Chief Victor M. Nuñez and Assistant Chief Rachel Cano.
The South Bay Branch does general prosecution and also houses deputy district attorneys from the gangs, family protection, economic crimes and the narcotics divisions. These specialized units work closely with local law enforcement agencies to prosecute the most difficult types of crimes. This past year, we prosecuted murders and attempted murders including Mexican Mafia cases. The South Bay Branch working in conjunction with the Chula Vista Police Department has an Office of Traffic Safety Grant which places an emphasis on reducing the high number of alcohol-related traffic injuries and deaths as well as offenders with multiple DUIs. Deputy District Attorney Cally Bright has led the effort to educate the public and military personnel on the dangers of drinking and driving.
The branch routinely handles about 3,000 felony cases and more than 7,000 misdemeanor cases during the course of a year