| 2017 Staffing | |
| --- | --- |
| Attorneys | 29 |
| Investigators | 7 |
| Paralegals | 8 |
| Support Staff | 30 |
| Total | 74 |
The District Attorney's East County branch is located in the City of El Cajon. The branch serves more than 20 communities and covers more than 2,000 square miles. Deputy District Attorney Michele Linley serves as the Division Chief, with Deputy District Attorney Joe McLaughlin serving as Assistant Chief. In 2017, the branch reviewed cases on 2,735 felony defendants and 10,969 misdemeanor defendants. Deputy DAs took 33 felony and 56 misdemeanor defendants to trial, including those tried by the branch's Gangs, Narcotics, Sex Crimes, Economic Crimes and Family Protection Divisions. A large percentage of cases were settled prior to trial, providing a significant cost savings to the public without sacrificing public safety.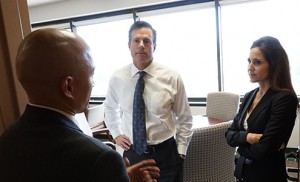 Because of its location and proximity to Native American reservations and casinos located in East County, the branch often handles cases involving crimes committed on the reservations or arising from casino activities. Our cooperation and partnership with the tribes, their tribal councils, tribal law enforcement, and the Sheriff's Department has enabled us to successfully investigate and prosecute these cases resulting in increased public safety on the reservations and in the casinos.
Deputy DA's in the East County branch prosecute a wide variety of felony cases, including homicide, sexual assault, child molestation, property and financial crime, drug offenses, animal abuse and DUI cases. There are specialty units within the branch that exclusively handle domestic violence, gang, narcotics and economic crimes cases. The branch also deals with cases involving drug smuggling across the U.S.-Mexico border, including large quantities of heroin and methamphetamine.
2017 Staffing
Attorneys
56
Investigators
12
Paralegals
17
Support Staff
(Including student workers, victim, advocates, process servers, GLC
*branch support canine not included.)
50*
Total
135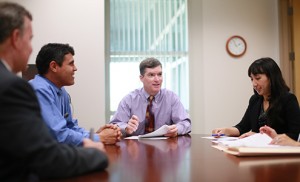 The North County Branch of the District Attorney's Office serves about one million residents – one-third of San Diego County's population. Ten law enforcement agencies, including five sheriff's substations, submit crime reports for prosecution to the North County Branch. In 2017, the branch reviewed over 6,400 felony cases and more than 12,500 misdemeanor cases submitted for criminal prosecution.
| 2017 Staffing | |
| --- | --- |
| Attorneys | 27 |
| Investigators | 7 |
| Paralegals | 9 |
| Support Staff | 36 |
| Total | 79 |
The South Bay Branch of the District Attorney's Office is located in Chula Vista and serves the southern portion of San Diego County. The branch handles all misdemeanors and felonies that occur in Chula Vista, National City, Imperial Beach, Bonita, San Ysidro and Coronado. In 2017, the South Bay Branch was led by branch Chief Dwain Woodley and Assistant Chief Carlos Varela. The branch includes Deputy District Attorneys from the Gangs, Economic Crimes, Insurance Fraud, Family Protection, Sex Crimes and Human Trafficking, and the Narcotics divisions. In 2017, the branch handled about 2,444 felony cases and 5,686 misdemeanor cases. Deputy District Attorneys took 35 felony cases and 35 misdemeanor cases to jury trial.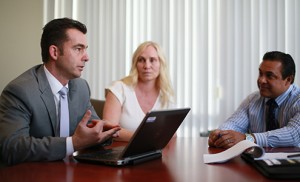 The South Bay branch handles unique cases because of its proximity to the U.S.-Mexico border. We work with the Department of Homeland Security to prosecute cases that involve drug smuggling, identity theft and stolen vehicles that occur at the Otay and San Ysidro Ports of Entry. The branch also prosecutes cases from R. J. Donovan State Prison and the county detention facilities in East Mesa. Two experienced prosecutors, Chris Blaylock and David Vallero, handled these difficult cases in 2017.
As part of an office wide initiative to combat human trafficking, South Bay prosecutors worked with law enforcement agencies in coordinating and planning operations. Prosecutors also organized panel discussions and trainings on understanding and working with human trafficking victims.
The South Bay branch is also involved in the community by reaching out to the youth in the Sweetwater Union High School District. For example, prosecutors made a number of anti-bullying presentations at local schools. And, through programs such as the Open Doors to Justice, South Bay middle and high schools students learned about the criminal justice system. Students met and learned from attorneys, judges, court staff, and participated in mock court hearings through these partnerships.