| 2017 Staffing | |
| --- | --- |
| Attorneys | 20 |
| Investigators | 22 |
| Paralegals | 8 |
| Support Staff | 12 |
| Total | 62 |
The average person doesn't give insurance fraud a second thought. But, the fact is it costs U.S. consumers an estimated $80 to $90 billion per year. In California, it's a $15 billion-a-year problem. It's the second-largest economic crime in America, exceeded only by tax evasion. The San Diego County District Attorney's Insurance Fraud Division addresses this problem by dedicating specialists to handle complex insurance fraud prosecutions. In 2017, we filed criminal charges against 490 defendants and obtained convictions against 494 defendants (some defendants who were charged in 2016 did not plead guilty until 2017) and over $10.25 million in restitution was ordered.
The insurance fraud business plan is to prevent crime, conserve resources, and maximize investigations and prosecutions with available staff.
We focus heavily on preventing fraud. Our outreach efforts consist of giving near weekly presentations to business and labor groups, informing each side of their rights and duties and of the consequences of fraud in applying for or denying benefits. We secured public service announcements on television, social media, radio, newspaper, and billboards. The message is: Insurance fraud is a felony, so "DON'T DO IT. DON'T TOLERATE IT. REPORT IT: (800) 315-7672."
In 2017, the Insurance Fraud Division was led by Chief Sherry Thompson-Taylor and Assistant Chief Alan Kessler. The division consists of six grant-funded units:
Workers' Compensation Fraud
Auto Insurance Fraud
Organized Automobile Fraud Activity Interdiction Program (Urban Grant)
Disability Healthcare Insurance Fraud
Life and Annuity Consumer Protection Program
The Regional Auto Theft Task Force (RATT)
Workers' Compensation Fraud
Workers' compensation fraud consists of premium fraud, provider fraud, uninsured employer fraud, and applicant fraud.
Premium Fraud
This involves businesses misrepresenting their true payroll to an insurance company in order to purchase workers' compensation insurance at lower than the proper rate. These employers often evade taxes by paying workers in cash. This cash-based payroll is one of the largest contributors to what's known as the "underground economy." In California, the underground economy costs $7 billion each year in lost revenue. According to the Franchise Tax Board, approximately $6.5 billion is lost annually due to income tax evasion in California alone.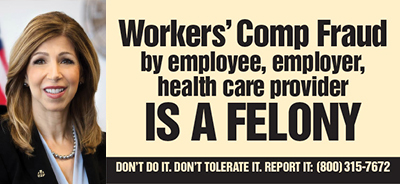 As a result of San Diego's Premium Fraud Task Force – the first of its kind in the nation and with involvement of state agencies, businesses that commit premium fraud can be prosecuted.
One significant case we prosecuted involved Good Neighbor Services (GNS) a janitorial services company. Woo Kwon, one of the owners of GNS, avoided paying more than $7 million in insurance premiums and payroll taxes through a detailed and systematic effort to hide the existence of hundreds of janitorial employees. He pleaded guilty in December 2016, and stipulated to a sentence of six years, eight months in prison. He surrendered $400,000 in cashier's checks and agreed to turn over 100 percent of the proceeds from the sale of a commercial building to his victims. So far, $1.3 million has been received and will be disbursed to the victims via the DA's trust account.
In March 2017, additional charges were filed against Hyok Kwon and eight other people for their role in this complex scheme. Hyok Kwon pleaded guilty to charges of premium fraud, employment tax evasion, and filing false documents and received an eight-year prison sentence and was ordered to pay $6.6 million in restitution.
Aimee and Danny Kwon pleaded guilty on March 16, 2017, for their part in the scheme and paid $105,790 in restitution. Later that month, GNS Controller Eugene Oh plead guilty and paid $62,863 in restitution. The following month, defendants Veronica Cuin, Manuel Rodriguez, Melquaides Brizuela, and Hyun Chae all pleaded guilty, with Cuin agreeing to pay $193,606 in restitution and the others paying amounts varying from $5,000 to $12,000.
For her efforts on the GNS cases, Deputy DA Jeanie Williams – the lead prosecutor – was honored with a Prosecutor of the Year Award of Excellence by the Coalition Against Insurance Fraud.
Provider Fraud

This type of fraud involves medical and legal providers committing insurance fraud. The Insurance Fraud Division has a Medical and Legal Insurance Fraud Task Force. This task force – a first-of-its kind in the nation – combines federal, state and county agencies to work together as a cohesive unit.
A significant case includes Operation Backlash, one of the largest worker's compensation healthcare insurance kickback schemes uncovered in San Diego. Forty-three defendants were charged in this case, including medical marketers, a chiropractor, and a pharmaceutical representative.
This case revolved around kickback payments made in exchange for new patient referrals from several chiropractic clinics. The defendants billed various workers' compensation insurance companies for urinalysis, medical patches, and creams, without disclosing that the patient was obtained by paying a kickback. In July 2017, defendants Sean O'Keefe, an attorney, and Stephen Rigler, a chiropractor, agreed to forfeit $300,000 and $150,000 respectively.
In late November, the first Backlash case went to trial in federal court. In that case, Dr. Ronald Grusd was convicted of over 40 counts including wire fraud, mail fraud, and conspiracy.
The charges are the result of an extensive undercover joint effort between the District Attorney, U.S. Attorney, FBI, and Department of Insurance. It is anticipated that this on-going investigation will yield additional charges in 2018.
Applicant Fraud
Applicant fraud is when an employee fakes or exaggerates work injuries in order to collect workers' compensation benefits, or when employers make false statements to benefits to injured workers.
Uninsured Employers
We prosecute employers who failed to maintain workers' compensation insurance. In 2017, we filed charges against 120 defendants. In the interest of consumer protection from those who would contract without a license during a natural disaster or those who would offer their services without the proper insurance in place, our office in cooperation with the California Contractor's State License Board and the California Department of Insurance, sent teams to the Lilac Wildfire Area to assist with crime prevention and community outreach.
The Lilac Fire began on December 7, near Interstate 15 State Route 76 in Bonsall. The fire quickly spread over several days, charring 4,100 acres, burning 157 structures and damaging 64 buildings. Borrowing from our experience during the 2003 and 2007 wildfires in San Diego County, our division quickly reached out to the Contractors State License Board and the Department of Insurance to mobilize our personnel inside the fire affected areas as soon as practical. As always, our goal is to educate and protect homeowners who either lost their homes or who had their property damaged. The team from this joint operation made contact with homeowners and handed out Information on how the recovery process works so they could protect themselves from scammers. Signs were posted at all intersections, warning unlicensed contractors to stay out of the fire areas and reminding homeowners to always check for the contractor's license.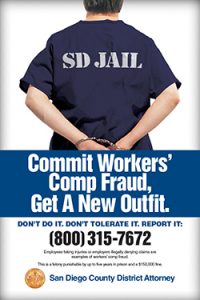 Workers' Compensation Fraud Forum
Our office hosted a Workers Compensation Fraud Forum in September for about 100 people from the private sector who were interested in what we are doing to combat these crimes and how we can work together moving forward.
Auto Insurance Fraud/Urban Grant
Auto insurance fraud involves fraudulently obtaining payment from an auto insurance policy based on false facts such as inflated or fake damages, staged collisions, false claims of vehicle theft and arson. It also includes agents and brokers engaging in fraudulent insurance activities. These two programs focus exclusively on prosecuting fraudulent claims related to auto insurance fraud.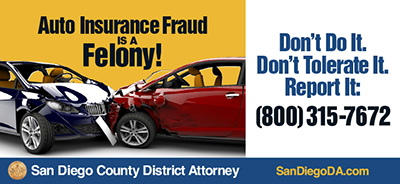 According to California Insurance Commissioner Dave Jones, "Insurance fraud is an expensive drain on the state's economy that totals into the billions of dollars annually in California. The costs of these scams are passed along to consumers through higher rates and premiums – everyone pays for insurance fraud."
Auto Insurance Fraud/Urban Grant Forum
The Insurance Fraud Division is heavily involved in crime prevention and outreach. In December, we hosted a forum for about 70 people in the private sector who are involved in handling cases of potential auto fraud. Participants had access to lead prosecutors in our office as well as representatives from other law enforcement agencies.
Disability and Healthcare Insurance Fraud
Healthcare fraud unnecessarily increases medical costs for everyone. The Disability and Healthcare Insurance Fraud Program investigates and prosecutes fraudulent medical and disability claims and policies, including medical providers who fraudulently bill insurance companies.
Life and Annuity Consumer Protection Program
The Life and Annuity Consumer Protection Program
The Life and Annuity Consumer Protection Program investigates and prosecutes unscrupulous life insurance agents and others who seek to steal the savings of victims through power-of-attorney abuse, securities fraud, and fraudulent claims on legitimate policies. These scams often target senior citizens. The effect is profound and life altering, since seniors do not have the time or opportunity for financial recovery. Our program is committed to working diligently to protect senior citizens and their finances from those who would do them harm.
A significant case includes the prosecution of Shawn Heffernan, an insurance agent who solicited and received over $1 million in funds from his clients, which were supposed to be invested into Heffernan's own private investment opportunities. He never made the investments, instead using the funds for his personal expenses. He pleaded guilty to all 26 felony counts.
Regional Auto Theft Task Force (RATT)
RATT investigates and prosecutes professional auto thieves. RATT is a model of cooperation as peace officers from the following departments work in conjunction with one another: District Attorney's Office, California Highway Patrol, San Diego Sheriff's Department, San Diego Probation Department, California Department of Insurance, National Insurance Crime Bureau and Chula Vista, La Mesa, El Cajon, Escondido, Carlsbad, National City and Oceanside Police Departments. Last year, this teamwork led to charges against 118 auto theft defendants. More than $300,000 in restitution was ordered to be paid back to victims.
The grand jury indicted more than 60 defendants in an undercover auto theft ring, called Operation Kill Switch in November. RATT detectives set up a storefront to purchase stolen vehicles, in which they recovered more than 70 stolen autos worth more than $1 million. In addition, police recovered firearms, body armor and narcotics.