Branch Offices
East County Branch | North County Branch | South Bay Branch
---
The District Attorney maintains three branch offices to better serve the needs of different areas of San Diego County. The Juvenile Division is also located off site.
East County Branch
The District Attorney's East County Branch is located in El Cajon. The branch serves 535,000 residents and covers more than 2,000 square miles. Deputy DA Mike Still serves as Division Chief and Deputy DA Terri Perez serves as Assistant Chief. In 2013, the branch issued cases on 2,859 felony defendants and 7,288 misdemeanor defendants. Deputies took 56 felony and 94 misdemeanor defendants to trial, including those tried by the branch's Gangs, Economic Crimes and Family Protection Divisions. Approximately 98 percent of all cases were settled prior to trial, providing a significant cost savings to the public without any change in disposition guidelines.
Because of its location and proximity to Indian reservations and casinos located in East County, the branch often handles cases involving crimes committed on the reservations or arising from casino activities. Our cooperation and partnership with the tribes, their Tribal Councils, tribal law enforcement, and the Sheriff's Department has enabled us to successfully investigate and prosecute these cases resulting in increased public safety on the reservations and in the casinos. The branch also deals with cases involving drug smuggling across the international border into San Diego County and DUI accidents and fatalities on rural roads.
Prosecutors in the East County Branch are experienced in homicide, sexual assault, child molestation, property and financial crime, drug offenses and DUI cases. There are specialty units within the branch that exclusively handle domestic violence, gang, and fraud cases.
Cases of note that the branch handled in 2013 include:

People v. Gary Thomas
Deputy DA Dave Williams, III, prosecuted this 65-year-old defendant who bludgeoned his 94- year-old neighbor to death with a hammer in her mobile home. The defendant was convicted of first-degree murder with a weapon use and was sentenced to 26 years-to-life in state prison.

People v. Lonnie Johnson
Deputy DA Chandra Reid prosecuted this defendant for molesting his biological daughter for five years, beginning at the age of 11, and his stepdaughter for two years, starting at the age of 12. The biological daughter became uncooperative by the time of trial and recanted. Nevertheless, the defendant was convicted of all counts and was sentenced to 45 years-to-life in state prison.

People v. Sunny May Hall
Deputy DA Doug Rose prosecuted this defendant for driving while under the influence of alcohol and crashing into a vehicle that had crashed on the freeway. After striking the disabled vehicle, killing the victim who was still seat- belted in the vehicle, the defendant struck and killed a good Samaritan who stopped to help the first victim. The defendant was convicted of two counts of gross vehicular manslaughter, and DUI with injury. The defendant was sentenced to nine years in state prison.
North County Branch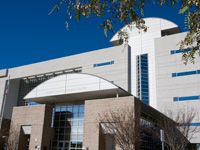 The North County Branch of the District Attorney's Office serves about one third of San Diego County's population – some one million residents. Ten law enforcement agencies, including five sheriff's substations submit crime reports to the North County Branch for prosecution. The branch was led during the year by Chief David Hendren and Assistant Chief Giacomo Bucci. In 2013, this branch reviewed and handled more than 15,000 cases submitted for criminal prosecution including 20 homicide prosecutions.
Cases of note include:

People v. Marcial Hernandez and Inez Garcia
The 12-year-old victim was brought from Mexico to stay with defendants, her aunt and uncle, and purportedly to attend school in the U.S. Instead, the defendants enslaved the young victim and forced her to cook, clean and care for the defendant's children. When the victim refused or went against defendants' wishes, she would be beaten. The young girl was repeatedly hit with objects, burned with a spoon, and whipped with a belt. She was not allowed to attend school, and after a few months, defendant Hernandez began to sexually abuse her four to five times a week. Next, the defendants began prostituting their niece to other men. In November 2002, the victim was beaten with a belt so hard that she could not stop crying and could not walk defendants' children to school. Defendants left the victim alone in the house and she called the police. The police reunified the victim with her parents, but the victim was so traumatized by her abusive captors that she did not report the sexual abuse to the authorities until 2009 when the victim was having her first child. Fortunately, Deputy District Attorney David Uyar prepared this case so thoroughly for trial, and the victim's description of what happened to her was so compelling, that we were able to overcome the more than eight-year delay in reporting these horrific crimes. Ultimately, Deputy DA Uyar was able to obtain a resolution of the case that resulted in a 23-year-to- life sentence for defendant Hernandez, and a 20-year state prison sentence for defendant Garcia.

People v. Mercedes Yorba, Grant Hunter, Gary Gomez, Michael Gault, Heather Smedley, Joseph Verkade, Jason Greer and Marylyn March
Defendant Yorba was familiar with the victim Michael Sahagun and knew that he sometimes possessed drugs in his home. Yorba and five other defendants planned to rob the 63-year-old Carlsbad resident at his home. Six days prior to the robbery and murder, defendant Hunter found someone who could act as the getaway driver. Six defendants eventually drove to the victim's home. Defendants Yorba, Hunter and Verkade left three of the defendants in the getaway vehicle and approached the garage where the victim was sitting. Shortly after the defendants surprised and confronted the victim in his home, Verkade shot and killed the victim with a single blast from a shotgun. Two other defendants later helped cover up the murder after the fact. Deputy DA Mathew Greco expertly organized and prepared this very complex case. He proceeded under a felony murder theory and first took first Mr. Hunter to trial, convicted him of murder, and later took Mr. Verkade to trial separately, resulting in a murder conviction and life without parole prison sentence for him. Each of the other six defendants pleaded guilty as well to various charges ranging from being an accessory to murder in violation of California Penal Code section 32, manslaughter or murder, with sentences ranging from felony probation to life in state prison.

People v. Richard Flores
This case involves a girl who was taken away from her biological parents by Child Protective Services and adopted by her grandparents when she was 6-years-old. Within a week of moving in, her grandfather, defendant Richard Flores, began to molest her. He would isolate the victim from her extended family and molest her every time he could catch her alone. The defendant told his granddaughter not to tell, warning he would kill himself or move on to her younger sister if she refused to submit to his demands. The victim was continually molested on a weekly basis until she could endure no more and ran away at age 15. She confided in her friends and ultimately her biological parents, who called the police. This case had many challenges, including the eight years of delayed disclosure of the molestation, an angry and untrusting family, and minimal corroboration of the victim's story. Furthermore, defendant Flores was 77 at the time of his arrest and by the time of trial was confined to a wheelchair with an oxygen tank. He refused to admit what he did. Deputy DA Aimee McLeod had the herculean task of preparing this case for trial, and she did an outstanding job. After three hours of deliberation, the jury convicted Flores of all counts. He was sentenced to 136 years in state prison.
South Bay Branch
The South Bay Branch of the District Attorney's Office is located in the City of Chula Vista. The branch handles all misdemeanors and felonies that occur in Chula Vista, National City, Imperial Beach, San Ysidro and Coronado. The branch also prosecutes cases from R. J. Donovan State Prison and the county detention facilities in East Mesa. We are fortunate to have John Dunlap an experienced Deputy District Attorney to handle these difficult cases.
The South Bay branch also works with the Department of Homeland Security in prosecuting cases that involve drug smuggling, identity theft and stolen vehicles that occur at the Port of Entry at the U.S./Mexico border.
In 2013, the South Bay Branch was led by branch Chief Victor M. Nuñez and Assistant Chief Melissa Diaz. The branch does general prosecution and also includes Deputy District Attorneys from the Gangs, Family Protection, and the Narcotics divisions. These specialized units work closely with local law enforcement agencies to prosecute the most difficult types of crimes. This past year, we prosecuted murders and attempted murders including Mexican Mafia cases. The South Bay Branch working in conjunction with the all of the law enforcement agencies in South Bay have been involved in prosecuting crimes committed against police officers. (CAPO unit)
The South Bay branch is also heavily involved in the community by targeting our youth in the Sweetwater School District with the Open Doors to Justice Program for the middle and high schools students in South Bay.
The branch routinely handles about 3,000 felony cases and more than 7,000 misdemeanor cases during the course of a year.
Noteworthy cases include:

People v. Julio Julietta and Antonio Miranda
In 2004, the defendants went to the victim's home and kidnapped her at gunpoint for extortion against her husband. The defendants tied her wrists and ankles and attempted to torture her with pliers. The defendant repeatedly beat, raped and sodomized her at gunpoint. The case went cold and six years later, a DNA hit solved the case. Deputy District Attorney Lucy Yturralde successfully prosecuted the case and the defendant is now sentenced to life in prison without the possibility of parole.

People v. Deon Bryant, Tyrone Cannady, Mikee Hanes and Andrew Oliver
In May 2012, the defendants conspired to rob an acquaintance. After creating a ruse to meet the victim, the defendants displayed a gun and the victim ran. One defendant shot the victim in the back, piercing his heart and lungs. Deputy District Attorney Allan Brown successfully prosecuted the case obtaining murder, assault or robbery convictions on all defendants and lengthy prison sentences.