| 2015 Staffing | |
| --- | --- |
| Attorneys | 20 |
| Investigators | 21 |
| Paralegals | 10 |
| Support Staff | 11 |
| Total | 62 |
Insurance fraud in the United States costs consumers an estimated $80 to $90 billion per year nationwide. In California, insurance fraud is a $15 billion a year problem. It's the second-largest economic crime in America, exceeded only by tax evasion. The San Diego County District Attorney's Insurance Fraud Division addresses this problem by dedicating specialists to handle complex insurance fraud prosecutions. In 2015, we filed criminal charges against 434 defendants. We obtained convictions against 416 defendants with the remainder pending.
Our business plan is to aggressively prevent crime, conserve resources, and maximize investigations and prosecutions with available staff. We focus heavily on preventing fraud. Our outreach efforts consist of giving near weekly presentations to business and labor groups informing each side of their rights and duties and of the consequences of fraud in applying for or denying benefits. We secured public service announcements on television, social media, radio, newspaper, and billboards with the message that insurance fraud is a felony; therefore: "DON'T DO IT. DON'T TOLERATE IT. REPORT IT to our hotline 1-800-315-7672."
In 2015, the Insurance Fraud Division was led by Chief Dominic Dugo and Assistant Chief Sherry Thompson-Taylor. The division consists of six grant-funded units:
Workers' Compensation Fraud
Auto Insurance Fraud
Organized Automobile Fraud Activity Interdiction Program (Urban Grant)
Disability Healthcare Insurance Fraud
Life and Annuity Consumer Protection Program
The Regional Auto Theft Task Force (RATT)
Workers' Compensation Fraud
Workers' compensation fraud consists of premium fraud, provider fraud, uninsured employer fraud, and applicant fraud. Premium Fraud involves businesses misrepresenting their true payroll to an insurance company in order to purchase workers' compensation insurance at lower than the proper rate. These employers often evade taxes by paying workers in cash. This cash-based payroll is one of the largest contributors to what's known as the "underground economy." In California, the underground economy costs $7 billion dollars each year in lost revenue. According to the Franchise Tax Board, approximately $6.5 billion is lost annually due to income tax evasion in California alone.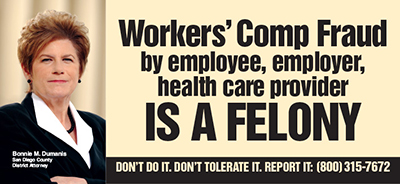 As a result of San Diego's Premium Fraud Task Force – the first of its kind in the nation – and with involvement of state agencies, businesses that commit premium fraud can be prosecuted.
In 2015, a grand jury indicted the owners of a janitorial company, Good Neighbor Services, for a massive premium fraud and tax evasion scheme. The company provides cleaning staff to major hotels statewide. The Insurance Fraud Division and Department of Insurance uncovered a methodical and systematic shell game involving six straw owners who were allegedly used to conceal the existence of hundreds of hotel workers. This allowed the company to fraudulently avoid paying more than $7 million in insurance premiums and payroll taxes. This case is pending.
Provider Fraud involves medical and legal providers committing insurance fraud. The Insurance Fraud Division has a Medical and Legal Insurance Fraud Task Force, which investigates and prosecutes medical and legal providers committing insurance fraud. The unique nature of this task force – also a first of its kind – is that there are combined federal, state and county agencies working together as a cohesive unit.
In 2015, we obtained 13 indictments in one of the largest workers' compensation health care insurance kickback schemes ever uncovered in San Diego County. The defendants included a radiologist, a pain management physician, two chiropractors, a medical equipment provider, a medical clinic administrator, and a medical marketer.
The charges in the case are a result of Operation Backlash, an extensive, undercover joint effort between the District Attorney, US Attorney, FBI, and Department of Insurance. The investigation revealed a widespread kickback scheme including attorneys, doctors, and medical providers who referred patients for health services in exchange for money. The alleged conspiracy resulted in millions of dollars in fraudulent insurance claims. This case is pending.
Uninsured employers is a term used for employers without workers' compensation insurance. Insurance Fraud staff work with the California Labor Commissioner's Office and the Contractors' State Licensing Board to investigate and prosecute such cases. Workers' compensation is required by law and provides injured workers the security of knowing they will receive compensation and medical treatment as a result of their work-related injury.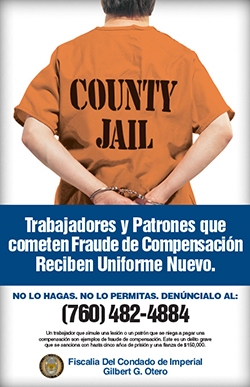 Applicant Fraud occurs when employees fake or exaggerate work injures in order to collect workers' compensation benefits. We aggressively investigate and prosecute those cases.
The Workers' Compensation Applicant Fraud Unit prosecuted Chellyn Jones in 2015. The defendant, while incarcerated in state prison, was injured participating in Fire Camp. She then filed a workers' compensation claim against the prison and actively pursued the claim upon her release. The defendant received back surgery that left her with myelopathy, often referred to as "a drop foot." Jones then took advantage of the situation and claimed to be paraplegic. She was provided with wheel chairs, a disability-equipped van, a care provider, and multiple pain medication prescriptions. She was ultimately convicted by a jury of 16 felony counts of insurance fraud and one count of grand theft. The total amount of fraud exceeded $230,000. Jones failed to appear for sentencing and a warrant is now outstanding for her arrest.
Auto Insurance Fraud/Urban Grant
Auto insurance fraud involves fraudulently obtaining payment from an auto insurance policy based on false facts such as inflated or fake damages, staged collisions, false claims of vehicle theft and arson, as well as agents and brokers engaged in fraudulent insurance activities. These two programs focus exclusively on prosecuting fraudulent claims related to auto insurance fraud.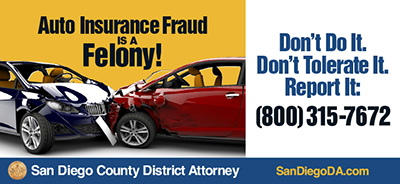 According to California Insurance Commissioner Dave Jones, "Insurance fraud is an expensive drain on the state's economy that totals into the billions of dollars annually in California. The costs of these scams are passed along to consumers through higher rates and premiums – everyone pays for insurance fraud."
Disability and Healthcare Insurance Fraud
Healthcare fraud unnecessarily increases medical costs for everyone. The Disability and Healthcare Insurance Fraud Program investigates and prosecutes fraudulent medical and disability claims and policies including medical providers who fraudulently bill insurance companies, prescription fraud, and identity theft perpetrated to obtain healthcare coverage.
In 2015, a chiropractor was convicted after an investigation revealed he billed over $7,500 to patients and their insurance for allergy blood tests that actually cost only $625. The chiropractor illegally failed to disclose that the testing was performed by an outside lab and the true price of the tests. Anthem Blue Cross, Blue Shield, Aetna, and Cigna were fraudulently charged almost $1 million for these tests.
Life and Annuity Consumer Protection Program
The Life and Annuity Consumer Protection Program investigates and prosecutes unscrupulous life insurance agents and others who seek to steal the savings of victims through power-of-attorney abuse, securities fraud, and fraudulent claims on legitimate policies. These scams often target senior citizens. The effect is profound and life-altering since seniors do not have the time or opportunity for financial recovery. Our program is committed to working diligently to protect senior citizens and their finances from those who would do them harm.
In 2015, Richard Provencio pleaded guilty and agreed to serve 15 years in state prison after being caught defrauding investors. Provencio and three co-conspirators targeted seniors and sold fraudulent securities, promising returns much higher than market rates. Unsuspecting citizens cashed in life insurance policies and other assets. They turned over their life savings based on lies about past performance and false guarantees of future performance. The total amount of principal collected from victims was over $3 million. All of it was lost.
Regional Auto Theft Task Force (RATT)
RATT investigates and prosecutes professional auto thieves. RATT is a model of cooperation as peace officers from the following departments work in conjunction with one another: District Attorney's Office, California Highway Patrol, San Diego Sheriff's Department, San Diego Probation Department, California Department of Insurance, National Insurance Crime Bureau and Chula Vista, La Mesa, El Cajon, Escondido, Carlsbad, National City and Oceanside Police Departments. Last year, this teamwork between agencies resulted in 81 auto theft defendants being charged and 79 auto thieves being convicted.