| 2015 Staffing | |
| --- | --- |
| Attorneys | 18 |
| Investigators | 6 |
| Paralegals | 4 |
| Support Staff | 4 |
| Total | 32 |
The Sex Crimes and Human Trafficking Division is comprised of a highly-trained and specialized team of Deputy District Attorneys, District Attorney Investigators, paralegals and secretaries who are all dedicated to aggressive and just prosecution of perpetrators of sexual assault and human trafficking crimes. Guided by Division Chief John Rice and Assistant Chief Kristen Spieler, the division strives to treat the victims of sexual assaults with compassion, dignity, and respect.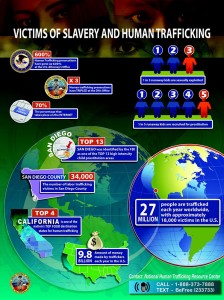 Attorneys and staff in this division handled a number of significant cases including prosecutions for sexually motivated homicide, sexual assaults by strangers, acquaintances or family members, lewd acts with children, non-domestic violence stalking, human trafficking, pimping, pandering, failing to properly register as sexual offenders, indecent exposure and civil commitments of sexually-violent predators.
We continue to see a rise in the prosecution of human trafficking, primarily in conjunction with pimping and pandering charges. Felons intent on profiting from this illicit business seduce vulnerable young women and minors into the underworld of prostitution throughout the county. The division not only prosecutes offenders, but it works with law enforcement and community-based organizations, which try to rehabilitate the victims and re-integrate them back into society.
The division is committed to protecting the community from sexually-violent predators through the pursuit of civil commitment petitions resulting in hospitalization and treatment of those offenders found to be a substantial danger to the public. The division works to keep the public safe and informed as sexually-violent predators reach the community treatment phase through community notification and public meetings.