Branch Offices
East County Branch | North County Branch | South Bay Branch
---
The District Attorney maintains three branch offices to better serve the needs of different areas of San Diego County. The Juvenile Division is also located off site.
East County Branch
The District Attorney's East County Branch is located in El Cajon. The branch serves 535,000 residents and covers more than 2,000 square miles. Deputy DA Mike Still serves as Division Chief and Deputy DA Terri Perez serves as Assistant Chief. In 2012, the branch issued cases on 2,586 felony defendants and 7,321 misdemeanor defendants. Deputies took 42 felony and 47 misdemeanor defendants to trial, including those tried by the branch's Gang and Family Protection Divisions. Approximately 98 percent of all cases were settled prior to trial, providing a significant cost savings to the public without any change in disposition guidelines.
Because of its location and proximity to Indian reservations and casinos located in East County, the branch often handles cases involving crimes committed on the reservations or arising from casino activities. Our cooperation and partnership with the tribes, their Tribal Councils, tribal law enforcement, and the Sheriff's Department has enabled us to successfully investigate and prosecute these cases resulting in increased public safety on the reservations and in the casinos. The branch also deals with cases involving drug smuggling across the international border into San Diego County and DUI accidents and fatalities on rural roads.
Prosecutors in the East County Branch are experienced in homicide, sexual assault, child molestation, property and financial crime, drug offenses and DUI cases. There are specialty units within the branch that exclusively handle domestic violence, gang, and fraud cases.
Cases of note that the branch handled in 2012 include:

People v. Josephine Ring
Deputy DA Curtis Ross prosecuted this 66-year-old defendant for shooting and killing her 48-year-old son with a shotgun in their house. The defendant was convicted of second-degree murder with a gun use and was sentenced to 40 years-to-life in state prison.

People v. Abdihakim Rabi et al
Deputy DA Karra Reedy prosecuted seven defendants for abducting and sexually assaulting a 19-year-old victim as she walked home from a bus stop. All of the defendants were convicted of either false imprisonment or sexual assault and sentenced to terms in state prison.

People v. Jason Foulds
Deputy DA Gordon Davis prosecuted this defendant for driving while under the influence of alcohol and rear ending a vehicle on the freeway, killing a grandmother and her 16-year-old grandson. The defendant was convicted of two counts of gross vehicular manslaughter and sentenced to 12 years in state prison.
North County Branch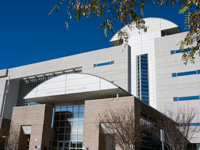 The North County Branch of the District Attorney's Office serves about one third of San Diego County's population – some one million residents. Ten law enforcement agencies, including five sheriff's substations submit crime reports to the North County Branch for prosecution. The branch was led during the year by Chief David Hendren and Assistant Chief Giacomo Bucci. In 2012, this branch handled more than 13,000 criminal cases including 20 homicide prosecutions.
Some of the branch's most important cases of 2012 included:

People v. Brendan O'Roarke
In October 2010, 41-year-old Brendan O'Roarke, dressed in black, went to Kelly Elementary School in Carlsbad with .357 Ruger revolver, a speed-loader, extra ammunition, a gas can, matches and a propane tank. O'Roarke climbed a fence and shot at the schoolchildren on the playground, striking two girls in their arm. He continued to fire, shooting at three boys in another area of the playground. Before he could shoot anyone else, he was confronted by a school employee. He attempted to shoot the employee, Ms. Cox, but there were no more bullets in the gun. Three good Samaritans saw what was happening and captured Mr. O'Roarke. He was prosecuted by Deputy District Attorneys Summer Stephan and Pat Espinoza and was convicted of seven counts of attempted murder among other charges. In addition, the jury found him sane at the time of the shooting, rejecting the opinions of several doctors who said O'Roarke was insane. He was sentenced to 189 years in prison.

People v. Stephen Boyle
In September 2011, the defendant Stephen Boyle was the president of a chapter of the Grifters Motorcycle Club, which was having an overnight biker event. The victim attended the same event with her husband. During the gathering, Boyle called the victim over to show her his motorcycle and asked her to sit on the bike. When she did, the defendant took off, driving to a dark, remote location more than four miles away and sexually assaulted her at knifepoint. Boyle then drove her back to the campsite where the motorcycle event was taking place. About three years earlier, Boyle sexually assaulted another woman he met at a Halloween party. Fearing she would not be believed, the second woman never reported the assault until she heard about defendant's arrest three years later. A third victim also testified that she was sexually assaulted by the defendant in another jurisdiction. Deputy District Attorney Laurie Hauf prosecuted this case and the defendant was convicted of both sexual assaults from the San Diego area along with numerous allegations. He was sentenced to more than 250 years in state prison.

People v. Katherine Heinzel
The defendant, a former Newport Beach Police Officer of eight years, was driving alone in her Nissan Maxima northbound on Interstate 15 at approximately 90 miles-per-hour just past the Lilac Bridge, when she rear ended a Toyota Camry with three young men in the car. The accident pushed both cars through the guard rail and down a steep cliff, killing the driver of the second vehicle and severely injuring both other males in the car. Heinzel's blood alcohol level was about 0.15%, almost twice the legal limit at the time of the accident. Deputy District Attorney Tracy Prior prosecuted this tragic case and the jury convicted Heinzel of gross vehicular manslaughter while intoxicated. She was sentenced to nine years in state prison.
South Bay Branch
The South Bay Branch of the District Attorney's Office is located in the City of Chula Vista. The branch handles all misdemeanors and felonies that occur in Chula Vista, National City, Imperial Beach, San Ysidro and Coronado. The branch also prosecutes cases from R. J. Donovan State Prison and the county detention facilities in East Mesa.
The office works in conjunction with the Department of Homeland Security in prosecuting cases that involve drug smuggling and stolen vehicles that occur at the Port of Entry at the U.S./Mexico border.
In 2012, the South Bay Branch was led by branch Chief Victor M. Nuñez and Assistant Chief Melissa Diaz. The branch does general prosecution and also includes Deputy District Attorneys from the Gangs, Family Protection, and the Narcotics divisions. These specialized units work closely with local law enforcement agencies to prosecute the most difficult types of crimes. This past year, we prosecuted murders and attempted murders including Mexican Mafia cases. The South Bay Branch working in conjunction with the Chula Vista Police Department had an Office of Traffic Safety Grant which places an emphasis on reducing the high number of alcohol-related traffic injuries and deaths as well as offenders with multiple DUIs. Deputy District AttorneyCally Bright led the effort to educate the public and military personnel on the dangers of drinking and driving.
The branch routinely handles about 3,000 felony cases and more than 7,000 misdemeanor cases during the course of a year