| 2016 Staffing | |
| --- | --- |
| Attorneys | 13 |
| Investigators | 0 |
| Paralegals | 6 |
| Support Staff | 22 |
| Interns | 2 |
| Student Workers | 3 |
| Total | 46 |
In 2016, the Case Issuance and Extradition Division was managed by Deputy District Attorney and Division Chief Susan Gust and Deputy District Attorney, Nida Rice, the Deputy Chief along with Legal Support Manager Ella Bookwalter, and Paralegal Supervisors Diane Alvarez and Debbie Kamin. The division is comprised of the following units: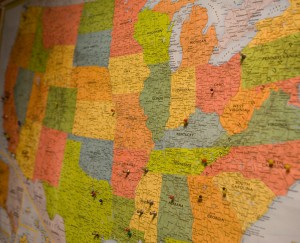 Felony Issuing Unit
Priors Unit
Domestic and International Extraditions Unit
Lifer Hearing Unit
DA Liaison Unit
Felony Issuing
This unit has the responsibility of reviewing police reports submitted by various law enforcement agencies, which document criminal activity that occurs primarily in central San Diego. Case Issuance attorneys evaluate the cases for charges and file felony criminal complaints for general prosecution. They may also refer cases for vertical prosecution by a specialized unit within the District Attorney's Office, or to another prosecuting agency, when appropriate. The Case Issuance staff works closely with the City Attorney's Office to ensure cases are appropriately prosecuted as felonies or misdemeanors. In 2016, the attorneys in this division reviewed 3,322 felony cases, for issuing. Charges were filed in 2,372 felony cases and 448 cases were rejected. Another 502 cases were redirected to other prosecuting agencies. All of these cases were processed by the Case Issuance clerical staff, including cases referred to various specialized units.
Proposition 64, which was passed on November 8, 2016, provided an avenue for defendants or their counsel to petition for the reduction of certain, specific felony charges to misdemeanors. The Case Issuance staff processed the cases impacted by the new law. The attorneys in the division also handled a variety of legal issues and provided legal advice on criminal law, procedure and evidence to the various law enforcement investigators who submit cases to the District Attorney's Office for consideration.
Priors Unit
The Priors Unit obtains certified court documents for the entire District Attorney's Office. Prior convictions can elevate criminal conduct to the felony level, provide specific requirements for sentencing and elevate a defendant's custody exposure so defendants with criminal records are given a commensurate sentence. Documents are obtained from other courts throughout San Diego County or in other jurisdictions.
CODIS DNA Hit/DA Case Management System Integration Project
The Combined DNA Index System (CODIS)/DA Case Management System is a grant-funded program that pairs one assigned Deputy District Attorney to work collaboratively with the crime labs of the San Diego Police Department and the San Diego Sheriff's Department. The program links DNA evidence from an unknown suspect that has been analyzed by criminalists. The DNA profile is identified with other profiles and logged with the statewide Regional Information Sharing System (RISS/Net). This indispensable project combines technology and science to achieve a greater measure of justice for San Diego victims in previously unsolved crimes. To date, as a direct result of this new collaborative project with law enforcement, several many felons who had pending felony cases have been tied to older, unsolved crimes. At the onset of the project, the DA Information Technology Division modified its case management system to be able to electronically import 5,500 CODIS matches or "hits" directly from our two crime labs. The case management system continues to receive downloads of all new CODIS hits on a bi-weekly basis. This technology allows our office to effectively manage, mine, and track the voluminous DNA data from unsolved crimes. It also gives prosecutors real-time information about open CODIS hits related to defendants they have previously or are currently prosecuting. To date, our office has input over 6,833 hits into our database.
eDiscovery
The District Attorney's Office continues to use and improve its eDiscovery program. During 2016, more than 4.9 million pages of discovery (police reports and other documentary evidence) were scanned into an electronic format. Now, more than 1,380 private attorneys as well as all the attorneys in the Office of the Public Defender and Office of the Alternate Public Defender, receive discovery via eDiscovery in adult criminal matters. This allows us to provide discovery in a cost effective and a timely manner, and our program is a model for other District Attorney Offices in the state.
In addition, the District Attorney's Office continues to work with the San Diego County Technology Office, The San Diego Superior Court, court reporters, and the San Diego County Probation Office, to create an electronic process to deliver preliminary hearing transcripts and probation reports. Virtually all preliminary hearing transcripts and probation reports are now seamlessly delivered directly into our case management system, which reduces the amount of paper generated.
Domestic and International Extraditions
Domestic Extraditions: In 2016, the Extradition Unit initiated legal proceedings to bring 107 defendants from other states back to San Diego to address pending criminal matters. Extradition prosecutors also filed fugitive complaints against 56 fugitives apprehended in San Diego, who were then sent back to other the states.
International Extraditions: In 2016, the Extradition Unit extradited three serious and violent offenders from Mexico including two defendants facing murder charges and one defendant charged with child molestation. Since 2008, the unit has extradited 29 international fugitives from Mexico, Canada and Belgium, all serious and violent offenders. Also last year, two fugitives were arrested in Mexico pursuant to our provisional arrest warrants and formal extradition requests. There are currently six fugitives in federal custody in Mexico pending extradition at various stages of the extradition legal process. All of these fugitives are wanted to stand trial in San Diego.
Bail Bond Cases and Extradition
When a defendant who is out of custody on bail, flees the jurisdiction, Penal Code Section 1306(b) allows for reimbursement of the costs associated with the extradition to be obtained from the surety before the bond is exonerated. In 2016, the San Diego District Attorney's Office pursued and received orders for reimbursement in 27 cases, for a total amount recovered ordered of $134,533. The reimbursement funds were distributed directly to the agencies that expended resources to complete the extradition, including the San Diego District Attorney's Office, San Diego Sherriff's Office and the San Diego Police Department.
Lifer Hearing Unit
The DA's Lifer Hearing Unit has two main goals: to ensure that dangerous prisoners with life sentences are not released carelessly or improvidently, and to ensure that crime victims and their families are given an opportunity to participate in the parole hearing process and have their voices heard.
When a defendant is given a life sentence, the Lifer Hearing Unit processes the case to ensure that it is ready for future parole suitability hearings. This involves preserving victims' statements and documenting the gravity of the crimes to ensure the offenders serve sentences proportional to their crimes.
Last year, there were 319 lifer parole hearings scheduled. Of those, 45 inmates received parole grants from the California Board of Parole Hearings. The remainder of the hearings – 274 – resulted in denials, postponements or stipulations to a denial of parole. Eight parole grants were overturned by Governor Edmund G. Brown. Even though there has been a shift statewide to a higher rate of parole grants, San Diego County has a much lower grant rate than other counties without a Lifer Unit.
In addition, the Lifer Hearing Unit tracks court activity on lifer cases and assists the Attorney General's Office in opposing writs of habeas corpus seeking release. The Lifer Hearing Unit also submits amicus briefs on behalf of the California District Attorneys Association on important cases. In 2016, the Lifer Hearing Unit filed an amicus letter in support of a Petition for Review in the California Supreme Court filed by the Attorney General in In re Roy Butler, and the California Supreme Court granted the Petition for Review. The Lifer Hearing Unit is the state-wide leader in lifer matters and San Diego County serves as the training office for other prosecutors who seek to understand the complex laws governing parole hearings.
In addition, due to prisoner release orders by the Three Judge Court in the Coleman v. Brown litigation, the Lifer Hearing Unit also handles elder parole hearings, youthful offender parole hearings and expanded medical parole hearings, on both indeterminately and determinately sentenced inmates. Effective January 2015, the California Department of Corrections and Rehabilitation, pursuant to court order, implemented a parole consideration program for all non-violent second strike inmates whereby they could receive 50 percent credit on their sentences instead of more reduced credits. In 2016, the Lifer Hearing Unit received 302 referrals for 50 percent credit consideration. The District Attorney's Office opposed 119 of the referrals. To date, just more than 40 percent of qualifying inmates have been awarded the 50 percent credit.
The Lifer Hearing Unit also screens applications for pardons and executive clemency. In 2016, we received 85 petitions for a pardon or commutation of sentence. The District Attorney's Office wrote 54 opposition letters to the Governor's Office. At this time, none of the petitions have been granted.
DA Liaison Unit
Two experienced prosecutors are assigned as liaisons to local and state law enforcement agencies. The liaisons work closely with law enforcement partners to assist them in assuring evidence is collected lawfully so it can be introduced in court by the prosecutors. They help police draft legal documents such as search warrants, arrest warrants, and other court orders. The DA liaisons are available seven days a week, 24 hours a day, to answer legal questions. This year, the unit collaborated with law enforcement and the court to respond to changes in the law and to integrate the high volume of body-worn camera evidence with our cases.
The two liaisons reviewed over 2,370 search and arrest warrants. They also provided legal advice on numerous inquiries from law enforcement and prosecutors. The liaisons also conducted multiple law enforcement trainings and classes on topics such as search warrants to significant changes in the law.