| 2018 Staffing | |
| --- | --- |
| Attorneys | 10 |
| Investigators | 0 |
| Paralegals | 4 |
| Support Staff | 19 |
| Student Workers | 3 |
| Total | 36 |
The Case Issuance and Extradition Division is responsible for reviewing and evaluating cases for potential criminal charges, coordinating domestic and international extraditions and overseeing a number of units involving clemency, prior criminal conduct, sealing arrest records and more. The division was managed in 2018 by Deputy District Attorneys Susan Gust, the Division Chief and Nida Rice, the Assistant Chief. Legal Support Managers Ella Bookwalter and Guadalupe Dominguez, and Paralegal Supervisor Debbie Kamin assisted the chiefs. The division is comprised of the following units: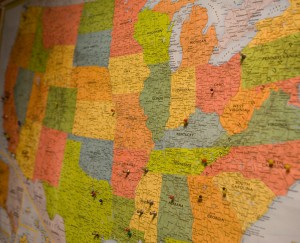 Felony Issuing
Priors
Domestic and International Extraditions
Proposition 57 / Sealing Arrest Records
Certificates of Rehabilitation and Clemency
DA Liaison
Felony Issuing
The Felony Issuing Unit reviews police reports submitted by various law enforcement agencies requesting criminal charges for offenses occurring in the Central Division of the San Diego Superior Court. Case Issuance attorneys evaluate cases for criminal prosecution based on the facts and the evidence, with an issuing standard of "proof beyond a reasonable doubt." Depending on the circumstances of the matter, they may refer cases for vertical prosecution (one attorney handles the case from beginning to end) by a specialized unit within the District Attorney's Office, or to another prosecuting agency for its evaluation. The Case Issuance staff works closely with the San Diego City Attorney's Office to ensure offenses committed within the city limits are appropriately reviewed for either felony or misdemeanor prosecution. In 2018, the attorneys in this division reviewed 3,695 felony cases and felony charges were filed against 2,641 defendants. All of these cases were processed by the Case Issuance clerical staff, which also processed all cases issued by other divisions of our office within the Central Division of the Superior Court.  Additionally, our staff processed all Information in the Central Division and all grand jury Indictments throughout the county. The attorneys in the division also addressed a variety of legal issues and provided legal advice on criminal law, procedure and evidence to the various law enforcement investigators who submit cases to our office for consideration of criminal charges.
Priors Unit
The Priors Unit obtains certified copies of court documents for use in pending cases or to evaluate potential criminal charges. These can be prior convictions, prison packets, court orders, minute entries, restraining orders or other documentary evidence needed for the case being evaluated and/or prosecuted. Prior convictions can elevate criminal conduct to the felony level, provide specific requirements for sentencing, or elevate a defendant's custody exposure, allowing defendants with criminal records to be given a commensurate sentence. Documents are obtained from courts throughout San Diego County and from other jurisdictions. Additionally, this unit assists the California Department of Corrections and Rehabilitation, the California Department of Justice, as well as other agencies and jurisdictions within the county and state, as well as national and international agencies with inquiries related to case dispositions within our county.
CODIS DNA Hit/DA Case Management System Integration Project
The Combined DNA Index System (CODIS)/DA Case Management System Integration Project is a grant-funded program that pairs one assigned Deputy District Attorney to work collaboratively with the crime labs of the San Diego Police and Sheriff's Departments. This important project uses technology to track the scientific results generated by these laboratories to achieve a greater measure of justice for victims of previously unsolved crimes in San Diego. At the onset of the project, the DA Information Technology Division modified our case management system to be able to electronically import CODIS matches or "hits" directly from the two crime labs. Our case management system continues to receive downloads of all new CODIS hits on a bi-weekly basis. This technology allows our office to effectively track the voluminous DNA data results from unsolved crimes that have been linked to defendants or cases in our case management system. It also gives prosecutors real-time information about open CODIS hits related to defendants they have previously, or are currently, prosecuting.  As a direct result of this collaborative project with the crime labs and law enforcement, felons who had pending felony cases have been tied to other, unsolved crimes. Additionally, we flag hits in cases to an individual other than the defendant for further legal analysis on that case.  To date, our office has input over 8,909 hits into our database.
eDiscovery
The District Attorney's Office continues to use and improve its eDiscovery program. In 2018, more than 5 million pages of paper discovery (police reports and other documentary evidence) were scanned into an electronic format. More than 1,762 private attorneys, as well as all of the attorneys in the Office of the Public Defender and Office of the Alternate Public Defender, receive discovery via eDiscovery in adult criminal matters. This allows discovery to be provided in a more cost-effective and timely manner. Our eDiscovery program remains a model for other District Attorney's Offices in the state.
Domestic and International Extraditions
Domestic: The Extradition Unit initiated legal proceedings to bring 102 defendants in other states back to San Diego to address pending criminal matters in 2018. Extradition prosecutors also filed fugitive complaints against 61 fugitives apprehended in San Diego, who were then sent back to the states requesting extradition.
International: To date, the unit has extradited 34 international fugitives, all serious and violent offenders, from Mexico, Canada, Panama and Belgium. Currently, one fugitive is in federal custody in Mexico pending extradition. In 2018, we prepared and submitted four Provisional Arrest Warrant/Formal Extradition requests to Mexico and Kenya.
Bail Bond Cases and Extradition
When a defendant who is out of custody on bail flees the jurisdiction, Penal Code section 1306(b) provides that the bond company reimburse the costs associated with extraditing a defendant back to San Diego before the bond is exonerated. In 2018, the San Diego District Attorney's Office pursued and received orders for reimbursement in approximately 17 cases, for a total amount ordered of approximately $73,234.46. These reimbursement funds were distributed directly to the agencies that expended resources to complete the extradition, including the San Diego District Attorney's Office, the San Diego Sherriff's Office and the San Diego Police Department.
Proposition 57 and Sealing of Arrest Records
Proposition 57: This proposition was enacted by the voters in November 2016 and implemented by the California Department of Corrections and Rehabilitation (CDCR) in July 2017. Proposition 57 provides a mechanism for current inmates who are convicted of non-violent crimes, as defined by PC667.5(c), to receive a 'Review on the Merits' to determine their suitability for early release on parole. The District Attorney's Office analyzes the inmate's current convictions and criminal history, reaches out to victims for input, and determines whether or not to submit an opposition to early release on parole to the Board of Parole Hearings (BPH). As of January 1, 2019, the District Attorney's Office has received Notices from CDCR for a Review on the Merits on 1,355 cases, and has responded with 1,144 letters to BPH outlining the reason why the facts of the underlying offenses and offender's criminal history indicate the perpetrator presents a current, unreasonable risk of violence or a current, unreasonable risk of significant criminal activity if released into the community.
Sealing of Arrest Records: In January of 2018, Penal Code section 851.91 was enacted, providing for the sealing of a criminal arrest that did not result in a conviction. Working collaboratively with the San Diego Public Defender's Office, the San Diego City Attorney's Office and the San Diego Superior Court, a protocol was developed for a streamlined process for handling these Petitions. Court forms were created and all petitions were centralized in the Central Division to provide for an efficient method of reviewing and processing these petitions with the Court, typically without the need for a hearing.
Certificates of Rehabilitation and Clemency
In general, anyone convicted of a felony crime or misdemeanor sex crime can later petition the court for a Certificate of Rehabilitation. If the person establishes that they have led an honest and crime free life, among other criteria, since their conviction, the court will grant the certificate. This is a significant step toward obtaining a gubernatorial pardon. In 2018, our office processed 16 Certificates of Rehabilitation. Additionally, this unit responds to notices of applications for Clemency submitted to the Governor's Office for consideration. Clemency can be in the form of a traditional pardon or commutation of sentence. During 2018, we reviewed 315 applications for clemency. This number has tripled since 2017. Considerable efforts have been spent locating and contacting victims of the crimes for which an inmate is requesting Clemency. After review of our files and other criminal conduct by the inmate, we provide detailed letters to the Governor outlining any potential opposition to the requested relief, and the basis for our position.
DA Liaison Unit
Two experienced prosecutors are assigned as full-time liaisons to local and state law enforcement agencies. The DA liaisons are available 7 days a week, 24 hours a day, to answer legal questions. These prosecutors work closely with law enforcement to draft legal documents, such as search warrants and arrest warrants and assist investigators/officers in ensuring evidence is collected lawfully so it can be introduced in court. In 2018, the two DA liaisons reviewed 1,969 search and arrest warrants and responded to thousands of emails and telephone calls, providing legal advice to both law enforcement and prosecutors. The liaisons also conducted multiple law enforcement trainings and classes on topics including search and seizure, the 5th and 6th Amendments, and continually updated officers on significant changes in the law.