| 2014 Staffing | |
| --- | --- |
| Attorneys | 17 |
| Investigators | 0 |
| Paralegals | 8 |
| Paralegal Interns | 1 |
| Support Staff | 21 |
| Legal Interns | 1 |
| Student Workers | 2 |
| Total | 50 |
In 2014, the Case Issuance and Extradition Division was managed by Division Chief Lisa Rodriguez, Assistant Chief Dino Paraskevopolous, Legal Support Manager Ella Bookwalter, and Paralegal Supervisor Sandra Crespo. The division is comprised of the following units: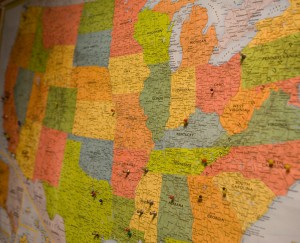 Domestic and International Extraditions Unit
Felony Issuing & Priors Unit
Lifer Hearing Unit
DA Liaison Unit
Realignment and Collaborative Court Unit
Domestic and International Extraditions
Domestic: In 2014, the unit extradited 95 defendants from other states back to San Diego. Extradition prosecutors also handled 92 hearings to extradite 47 fugitives from San Diego to other states, citizen identity hearings, as well as other related hearings.
International: In 2014, the San Diego District Attorney's Extradition Unit extradited five serious and violent offenders from Mexico. Since 2008, the unit has extradited 23 fugitives from Mexico, all serious and violent offenders. Also last year, two fugitives were arrested in Mexico pursuant to our provisional arrest warrant and formal extradition requests. There are currently six fugitives in federal custody in Mexico pending extradition at various stages of the extradition legal process. All of these fugitives are wanted to stand trial in San Diego for allegedly committing serious and violent offenses, including murder and rape.
Felony Issuing & Priors Unit
This unit has the responsibility of carefully reviewing police reports documenting criminal activity that occurs in the central area of San Diego to determine whether felony charges should be filed. In addition, Case Issuance staff decides if a submitted case should be referred to another prosecution agency or to another division to be handled vertically – by just one Deputy District Attorney for the life of the case. In 2014, the attorneys in this division reviewed 6,091 felony cases for possible charges. There were 4,513 felony cases issued, 644 rejected and 934 were redirected to other agencies. Our busy clerical staff processed all of those cases, as well as all 7,175 cases issued in the central division. They also handled the tremendous influx of preparing amended complaints, in the wake of Proposition 47, for pending felonies that became misdemeanors on November 5, 2014. The division also handled a variety of legal issues and provided legal advice on criminal law, procedure and evidence to the various law enforcement agencies that submit cases to our office for consideration.
The Priors Unit obtains certified court documents for the DA's Office. The prior convictions elevate a defendant's custody exposure so defendants with criminal records are given a commensurate sentence.
As a result of the Criminal Justice Realignment Act of 2011, defendants began serving prison sentences in county jail pursuant to Penal Code section 1170(h). Additionally, instead of a return to state prison for revocations for violations of parole and post release community supervision conditions, these parolees and offenders are ordered to serve up to 180 days in local jail as well. In order to prove prison priors, we began using the process developed with the Sheriff's Department to document local prison priors and revocations for evidentiary use.
CODIS DNA Hit/DA Case Management System Integration Project
With a grant from law enforcement, one issuing Deputy District Attorney was assigned to work collaboratively with the San Diego Police Department Crime Lab and the San Diego Sheriff's Department Crime Lab to resolve DNA hits through the statewide CODIS DNA system.   This exciting project combines technology and science to achieve a greater measure of justice for San Diego victims in previously unsolved crimes. To date, as a direct result of this new collaborative project with law enforcement, several felons have been tied to older crimes while they were pending new felony cases. This year, our Information Technology Division modified our current case management system to be able to electronically input about 5,500 CODIS hits directly from our two labs into our case management system. With this technology, our office effectively manages, mines, and tracks the voluminous data and gives all of our prosecutors real-time information on open CODIS hits related to defendants they are currently prosecuting or whom they have prosecuted in the past.
eDiscovery
This year our office completed a massive roll-out of the San Diego County District Attorney's eDiscovery program county-wide. During 2014, we scanned more than 5.5 million pages of discovery into electronic format. Now, more than 950 private attorneys as well as the Office of the Public Defender and Alternate Public Defender, receive discovery via eDiscovery on adult criminal matters. The conversion to eDiscovery allows us to comply with our duty to provide discovery in a cost efficient and a timely manner, and is a model for other District Attorney Offices statewide.
Additionally, our office worked in conjunction with the San Diego County Technology Office and the San Diego County Probation Office to create an electronic delivery process for all probation reports.  All probation reports countywide are now seamlessly electronically delivered directly into our case management system.
Lifer Hearing Unit
The DA's Lifer Hearing Unit has two main goals: to ensure that dangerous prisoners with life sentences are not released carelessly and to ensure that crime victims and their families are given an opportunity to participate in the parole hearing process and have their voices heard.
When a defendant earns a life sentence, the Lifer Hearing Unit processes all cases when a defendant earns a life sentence for future parole suitability hearings, preserving victims' statements and documenting the gravity of the crimes to ensure the offenders serve sentences proportional to their crimes. Last year, there were 306 lifer parole hearings scheduled. Of those, 77 inmates received parole grants from the California Board of Parole Hearings. The remainder of the hearings (229) resulted in denials, postponements or stipulations to denial of parole. Twenty parole grants were overturned by Governor Edmund G. Brown. While there has been a shift statewide to a higher rate of parole grants, our county has a much lower grant rate than other counties without a Lifer Unit.
DA Liaison Unit
Two very experienced prosecutors are assigned as liaisons to local law enforcement agencies including the San Diego Police Department and the San Diego Sheriff's Department. These prosecutors work closely with law enforcement by assisting with investigations. The liaisons provide critical assistance in assuring evidence is collected lawfully so it can be introduced in court by the prosecutors. They also assist police with drafting legal documents such as search warrants, arrest warrants, and other court orders. The DA liaisons are available seven days a week, 24 hours a day to answer legal questions. They are frequently on hand for critical suspect and witness interviews in sensitive and serious cases. This year, the unit was responsible for collaborating with law enforcement and the court to respond to the legislative changes brought about by new case law. They also helped in developing an electronic process for submitting probable cause declarations from law enforcement to the court for review.
Realignment and Collaborative Courts Unit
The Criminal Justice Realignment Act, known as AB 109, went into effect on October 1, 2011, shifting the supervision, housing and treatment of felony offenders from the state to the county. As a result, not only have new populations of offenders been created but there necessarily has been a resultant shift in how the county and the court must address sentencing and re-entry into the community. To provide a uniform and consistent response to this, the Realignment and Collaborative Courts Unit was created.
This unit provides District Attorney representation on the Behavioral Health Court, the Central and East County Drug Courts, the Parolee Reentry Court, and Veteran's Treatment Court. This Unit also staffs the multi-disciplinary team meeting for the recently developed Vista Detention's Center Veterans Housing Unit, and provides a link between the team and the court process. Working with our partner agencies, veterans organizations, mentors and the court, the Veteran's Court Program, which had been a successful pilot project, was formalized and became a permanent part of the San Diego Superior Court.
Additionally, this unit is responsible for handling all Post Release Community Supervision revocation matters and acting as the office wide liaison with the Probation Department's PRO Unit (Post Release Offender). A Collaborative Courts Deputy District Attorney continues to staff San Diego's Mandatory Supervision Court, which leads the state in creatively and effectively supervising, treating and stopping the revolving door of recidivist offenders who receive split sentences.
In July of 2013, the court was tasked with handling all parole revocations. We assigned a Deputy District Attorney to take on this new project and learn this complex area of law. This Deputy DA handles all parole revocation matters and is the liaison between the California Department of Corrections and Rehabilitation's Department of Adult Parole and our office.
This unit participates in the county's implementation of the Criminal Justice Realignment Act and advocates for the best solutions to protect public safety while transitioning offenders back into the community with treatment and supervision to reduce the likelihood of recidivism. Finally, we provide trainings in-house, countywide and statewide on all the legal aspects of AB 109 and evidence-based practices.   In November of 2014, this unit was charged with addressing the passage of Proposition 47. It worked collaboratively with our justice partners and IT Department to prepare for the implementation of the new laws. That included education within our own office and outside agencies, and to responding to the influx of previously convicted felons applying for re-sentencings.