| 2014 Staffing | |
| --- | --- |
| Attorneys | 27 |
| Investigators | 17 |
| Paralegals | 8 |
| Support Staff | 9 |
| Total | 61 |
The District Attorney's Gangs Division prosecutes the most serious gang crimes committed in the county. This division is a vertical prosecution unit, which combines Deputy District Attorneys with District Attorney Investigators to handle the unique and dangerous issues that arise in gang prosecutions. Led by Division Chief Dana Greisen and Assistant Chief Robert Hickey, the division's staff is some of the finest in the nation.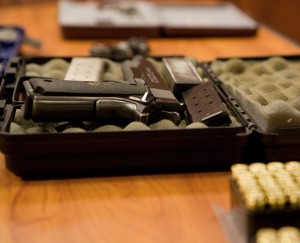 Last year, the Gangs Division continued its proactive role with local, state, and federal law enforcement. Prosecutors and investigators participated on numerous task forces targeting gang members and the crimes they commit. The Gangs Division is currently prosecuting defendants from takedowns of three major gangs in San Diego. With these arrests, shootings in the affected neighborhoods have gone down more than 50 percent.
As part of this approach, the Gangs Division continued to participate in targeted operations, which have been highly successful in addressing gang crime in San Diego. This zero-tolerance approach disrupted some of San Diego's most violent gangs and resulted in convictions for charges including drug sales, prostitution, armed assaults and murder. As a result, gang homicide rates in San Diego are below the average of the last two decades and remain well below historic levels below that of most major metropolitan cities.
Another area of gang suppression is the Border Crimes Task Force, which was founded in 2009 through a federal grant. Three Deputy District Attorneys and one investigator are assigned to the task force. Along with federal and state law enforcement, the task force combats violent crime including murders, kidnappings, robberies and narcotic trafficking associated with major Mexican drug cartels. This task force coordinates efforts of law enforcement and prosecution to effectively combat the growing threat of serious and violent crime occurring in San Diego as a result of drug cartel influence in Mexico. One of the main prosecutions that continued throughout 2014 has been against a criminal organization called "Los Palillos," whose members have committed numerous kidnappings and murders on U.S. soil.
Prosecutors in this division continue to use all avenues to suppress gang crime including undercover operations and gang injunctions to stop violence before it occurs.
While there are hundreds of success stories in this division, the ongoing seriousness of gang violence in San Diego is reflected by the kinds of cases and defendants prosecuted in 2014.